If you want to share Public Wifi at home for friends and you don't want to share the Wifi Password, you can setup cheap a Public Openwrt Wifi Router as Access Point.
Advantages:
Public Setup needs no Wifi Password
You are not responsible, cause the Internet is pulled thru a VPN of Freifunk Network
It's anonymous!
It's free of Charge!
Supported by a big Community
Can installed on very cheap old Routers like the TP-Link 841 (find the Singleband Router on Amaz or EbXX 12$ or Powerfull Dualband Router TP Link C7 at 50$)
Can by used at EVERY Freifunk MESH Wifi Access Network (Mobile Home Usage without Internet like LTE)
It's save
Can be used with Solar Power or 9v Battery
Device: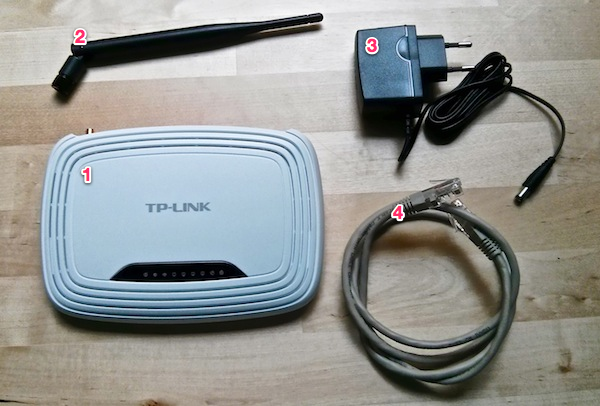 Howto:
Go to the next Freifunk Community Downloads to get a Firmware , see on Sticker which Version the Router is,  select then Firmware Version, like TP 841 Vers. 8.1 needs v8 (remark there are 2 Version the .bin and the sysupgrade.bin use always the .bin=gluon-fffd-3-142-20151030150319-tp-link-tl-wr841n-nd-v8.bin)
Keep this Firmware on Backup !!! Its useful if the Router hangs on Changes! Or if the File is PURGED cause version Change! Older sometimes more STABLE!
Power up the Router, login on TP-Link Web as admin, go Firmware Update, select the gluon-file, reboot and wait.
Connect a PC with DHCP NET to the Router LAN (yellow Ports)
Set SSH-Admin Password on Advanced first, select other Tabs on Advanced to Change first things you need. Remark Enable " MESH on WAN or LAN" disabel MESH on WIFI which is default!!! This let 2 Routers stop meshing over Wifi if you like to use a Router at Office and a Router on the Garden without LAN Cables!!
Select now Back to BASIC Tab and set Changes, like Geodata and Bandwith is useful, cause Geodata allow find next Router on a Meshmap!
Save and Exit! Remark a "long HEX KEY" MUST be shown (red framed)!! If NOT reflash the Firmware cause SETUP FAILED!!! for FACTORY RESET!
Test the Router after boot with Wifi Access, and Access on LAN 2-4!! LAN 1 offers only MESH Function.
Emergency Access is possible by power on Router wait 60seconds then press RESET for min. 10 seconds, connect a PC to LAN2 and set IP 192.168.1.2 to the PC, the Router listen on 192.168.1.1 via telnet!! To do a Software RESET enter firstboot and confirm by YES, BUT this doesn't work clean at my Routers, i reflashed successful and this is more clean.
Administration:
Go to the Meshviewer Map, look for your Router Name and pick up the IPv6 address, this Map is useful to check your Setup from Internet!
Open a Linux Terminal ot Putty and enter ssh root@ip-v6 to reach the Router Console
By this Commands you can change remotely anything Freifunk-Commands-Howto
Remarks:
The MAJOR Advance is that EVERY Router with this OS can taken to a OTHER Area, and he can CONNECT to EVERY other Freifunk MESH NETWORKs!
The TP-841 Router use 9V and can be used at MOBILE HOMES at foreign Citys
At Home the Router offers a anonymous Office Internet Access, with Linux/TAILS on RAM very secure for researches
Bugfix:
If the HexKey after setup is NOT seen then the Setup is failed, i have seen this on some setups. This can be a result of Browser Javascript Errors like your Browsers uses Adblockers. To fix it take a fresh firefox default profile without any ADDONS enabled!
Take the gluon-fffd-3-142-20151030150319-tp-link-tl-wr841n-nd-v8.bin a NON-SYSUPGRADE .bin File which seems more clean. Its found on the Freifunk Firmware Fresh Setupon a other path.